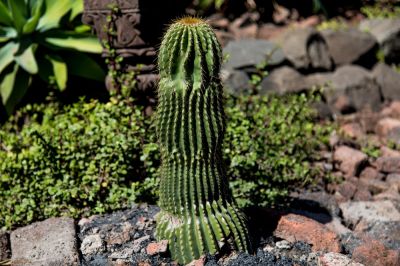 Think about creating a dry garden to help save on water, effort and still have a beautiful space, great for pollinators. It has become much more popular due to the current changing climate. This style of gardening helps to reduce the need for irrigation and can be useful for areas that do not have a good water supply, but where to start? This guide will help you on your way.
When creating a dry garden, number one is water
The number one aspect to consider is how you can conserve water. As you plan your garden, look at as many ways possible to use rainwater and reduce the need for water. Irrigation should be at a minimum so the right plants are necessary and drip irrigation can be beneficial where needed because this waters the plants at the base slowly, which can vastly reduce the need for more water than is necessary.
Soil health is essential when creating a dry garden
Another point is how good your soil quality is. You will need a balance between good drainage but also decent water retention at the same time.
Focus on your soil before planting, and you will find your garden will thrive much better.
Use lots of well-rotted organic matter and keep the soil well aerated, ideally use your own compost in the right places, depending on your plant choice.
To retain moisture, mulch the soil with wood chip or bark or even gravel. This will significantly help to retain much-needed moisture. Not only that but helps to control weed growth.
Plant choice is imperative when creating a dry garden
Choosing plants that are drought resistant is key. Often drought resistant plants have thick leaves, sometimes glossy or even 'fuzzy' as this all helps them to save water. Xeriscaping, which is dry water gardening, doesn't only mean planting Cacti and Succulents, there are a whole load of plants capable of thriving in drier conditions. Try Agave, Lavenders and herbs such as Sage and Oregano.
Creating a dry garden with low maintenance
Dry gardens should be low maintenance, few weeds, small mowing needs and little pruning. Using a thick mulch will help to keep weeds down, and moisture retention plus also keeping turfed area to a minimum will help. Makes sure access to water butts is easy, there is little waste and plants for pollinators so your garden can be a lovely haven for everyone to enjoy.
From plants to tools, buy everything that can help with creating a dry garden, visit us in store.