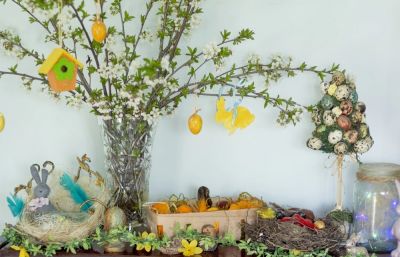 These 5 Easter decoration ideas will not only give you something entertaining and creative to do at home but also help to turn your home into a lovely place to celebrate easter. Don't forget the chocolate eggs and egg hunt in the garden as well! All of the mentioned tips are fun to do with kids. So, stimulate your inner tinkerer and get started with our 5 Easter Decoration Ideas!
1. A bowl of painted eggs
In the run-up to Easter, why not paint some eggs in many different colours and place them all into a glass bowl as a centrepiece. It will be fun being creative with patterns and colours - even glitter and ribbon - then putting them all together for a lovely display. All the family can get involved and contribute, whether it is through video calls or telephone. Let's hope we can celebrate Easter soon as how it used to be.
2. Make your own easter tree
If you love natural decorations, this is a fun thing to do! The next time you are going out for a walk or from your garden, pick up some twigs and small fallen branches. When you get home, use your painted eggs or perhaps feathers and ribbons to hang from the small branches in a vase. Place the twigs at the bottom of the vase, then stand a larger brach upright so you can use string to tie your decorations to. You can do this for a table piece or go big!
3. Carrot and flower vase
This is an enjoyable way to bring carrots into your easter decoration ideas and attract the Easter bunny!
Use a wide-rimmed vase and place carrots all around the inside,

Then fill with water and pop in your favourite easter flowers.

The carrots will hide the stems, and you will have made a really fun and interesting vase of flowers.
4. Paper garlands
An easy, quick yet creative way to decorate your house for Easter is to cut out of paper or card lots of different easter shapes - such as bunnies, chicks, eggs and bows. Use different coloured cards or paint the paper on how you like. Then attach them to string a few inches apart and hang up all-around your home. This will create a festive look at your house.
5. The garden
So, the Easter bunny knows he is welcome. Why not make some fun garden signs to stake into your pots or borders signposting the way to your front door. That way, the Easter bunny will know just where to stop off with some Easter eggs! Use recycled materials to paint bunnies, arrows and welcome messages for easter and place them outside in the garden, showing the way to your home.
Easter will be different this year with having to stay home more and not socialise as we are used to, but there are still ways to celebrate the weekend and get creative with decorations. Don't forget to treat yourself to a new plant for the table or at least some Tulips and Daffodils. Our garden centre is packed with sweet stuff to brighten up your house and garden this Easter.