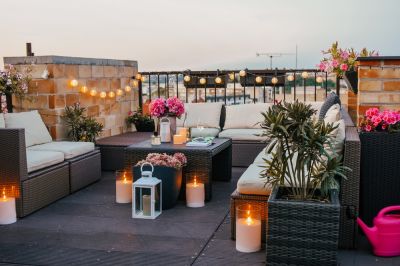 To keep your terrace clean doesn't have to be too much work as long as you do it at the right time of year and have the right equipment. It's always nice to step out onto a clean and thriving terrace where you can watch your plants grow, sit down with a book to read or entertain family and friends. Keep it clean and looking beautiful with these tips.
Keep your terrace clean with wood cleaner
If you have a wooden area, it's important to keep it clean for both aesthetics and safety. Wood can get slippery and after a wet winter especially, decking can be quite dangerous to walk on. There are special wood deck cleaners but also a gently washing with warm water. A stiff brush and washing up liquid will do just the job.
Concrete cleaning to keep your terrace clean
If you have a concrete area to clean, this can be really easy. One of the best ways is to use a pressure washer which will soon blast away any slippery surfaces, dirt and debris. Polished concrete is another hard landscaping surface that can generally just be swept to keep clean.
Think of your furniture when you keep your terrace clean
If you have a table, chairs and even a BBQ on your terrace, these will all need to be kept clean as well. Furniture covers can be used to protect your table and chairs from bad weather and BBQ covers as well. When you lift off the covers in spring, give everything a wipe down with a brush and if needed some warm water and liquid soap.
Keep your terrace clean with thriving pots
A terrace is made of pots and containers full of your favourite plants. Here are some tips to keep your pots and containers clean.
Give your pots a good clean as and when needed,
Don't forget to deadhead plants,
Remove old or diseased material,
Replenish soil in the spring.
If you have annuals, plant up seasonal containers full of colour and interest which will help to keep your terrace looking in great condition.
Good maintenance to keep your terrace clean
Throughout the year if you keep your terrace clean by sweeping up and washing away any dirt this will help to keep it looking great and will mean less work after the winter period. Sweep up fallen leaves, soil, food and your terrace will look great all year.
Your terrace can be kept clean and looking pretty with products to be found in store.