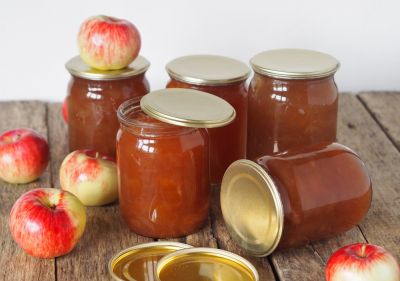 Are you wondering how to store autumn harvests? Sometimes when you bring home plenty of homegrown produce from your kitchen garden or allotment, or even your balcony and patio pots, it can be a lot to prepare and eat while it is still all fresh. Fresh is of course best but there are many ways to store harvests grown throughout the year and the last of the autumn harvests as well to get you through the winter and into the following year. Autumn harvests are some of the most delicious and there are many ways to store them. Here are our tips:
Apple
Squash
Fruit
Beans
Herbs
How to store autumn harvests of apples
When apples start falling from the tree, it is time to enjoy that loveliest of autumn harvests. Apple pies, apple crumble and the sweetness of homegrown fruit. Apples can be stored in wooden crates placed on top of each other in a cool, dry area where pests can't get to them. Keep an eye on them for any sign of disease or rotting.
How to store autumn harvests of squash
Most squashes will be fine if stored in a cool, dark place and you'll be able to eat them for months. Ideally, leave squashes to ripen on the vine for as long as you can before harvesting as that helps longevity in storage. If it isn't frosty, you can leave them in the sunshine for about a week first. Alternatively, cut them up and freeze portions, make delicious soups to freeze or even a hearty winter pie.
How to store autumn harvests of fruit
Autumn fruiting raspberries are a popular autumn fruit in kitchen gardens and allotments. The sweetness can't be beaten and they will soon sweeten up a crumble or pie. Freezing them in fruit bags is a good way to store them. Each bag can be filled with many different fruits so you can use each bag to make a smoothie.
How to store autumn harvests of beans
The last beans to be harvested from the vines are usually a sad moment! Beans can fill up the kitchen all throughout the summer and as they come to an end in autumn and it is time to finish the harvest, you might be wondering how to store what's left. After you have boiled or stop fried some they can also be blanched and frozen for use over winter. Another great way to use up beans is to make a green bean chutney or even pickle them in vinegar and pickling spices with a dash of mustard.
How to store autumn harvests of herbs
Hanging bunches of herbs with string up to dry can not only look great but the scent can be wonderful too. You can use dried herbs for making cups of tea over the winter months and for use in cooking. Other ways to store them are in airtight jars or even freeze them in ice trays.
Visit us in store for garden storage accessories.