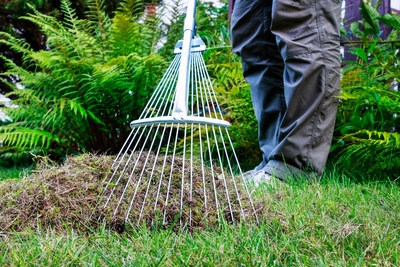 This autumn lawn care guide helps you keep your property healthy, green and lush during the autumn months. Lawn care in autumn is as essential as any other time of the year, even more so before winter arrives. Autumn is an excellent time to get to work on your lawn and prepare it for the seasons ahead. There are many jobs to be done in the garden at this time of year, and lawn care is one of them. So even though the temperature has dropped, grab your coat and enjoy some of the brighter days of autumn and the cool, fresh autumnal air.
Mowing
Scarifying
Sowing seed
Top dressing
1. Mowing
Even though the weather starts to cool and the leaves will begin to change colour and fall to the ground, your lawn may still need to be mowed, especially if the days remain relatively warm and sunny. As the growth of your grass begins to slow down, you should raise the height of your mower blade to gradually allow the grass to grow longer, protecting it over the winter months. Raise the blade until you stop altogether.
2. Scarifying and aerating
Ensuring your lawn has good airflow is key to a thriving property. Scarifying will remove weeds and moss you don't want on the lawn, and aerating with a garden fork or specialised garden tool will ensure good airflow in the soil. Holes will be created in the ground. There are also weed and feed products that can be used to help the process and keep your lawn looking great for the following summer months.
3. Sowing seeds
If your lawn has some patchy areas, you can now sow some lawn seed or lay some turf. Before it gets too cold and when it isn't too hot in the summer, this time of year can be ideal for sowing and growing. Allowing time for the seed to settle and germinate and the turf to establish itself, you will also need less water due to higher rainfall during the autumn months. So you can save water and time compared to sowing in late spring or summer.
4. Top dressing
This is where you will lay lawn top dressing on the grass after you have aerated the lawn. You can buy pre-mixed top dressing or make your own from horticultural sand, loam and topsoil. Spread it evenly and rake over the yard. It doesn't need to be any deeper than 2cm, with the tips of the current grass showing through the top. You can seed your lawn onto the top dressing and water in.
For lawn care tools, seeds, top dressing and advice, visit us in store. Our staff is always happy to help you, whether it's to find the best tool, grass seed or any other lawn care problem in autumn.