Indoor Plants
The variety of Houseplants we sell…
The pictures shown are all photographed in our garden centre. Our current ranges may differ to the photographs shown. If you would like to check if we have certain products in stock, please telephone the garden centre on 01845 523032, we will be happy to help. We are unable to take online orders or post items out.*
Foliage
With the growing popularity in houseplants, we have expanded our foliage plant collection to suit everyone, from small plants for terrariums or larger specimen plants for that WOW factor! There is also a wide range of sizes in between including a selection of plants supplied in hanging pots.
Foliage plants are great for creating that urban jungle feel, they are also proven to improve the air quality in your home by increasing oxygen levels and reducing toxins in the air as well as being great for people's mental health and wellbeing, helping to aid relaxation.
Our stock regularly includes some of the following as well as many more:
Aphelandra
Chamaedorea
Spathiphyllum
Calathea
Dracaena
Aglaomorpha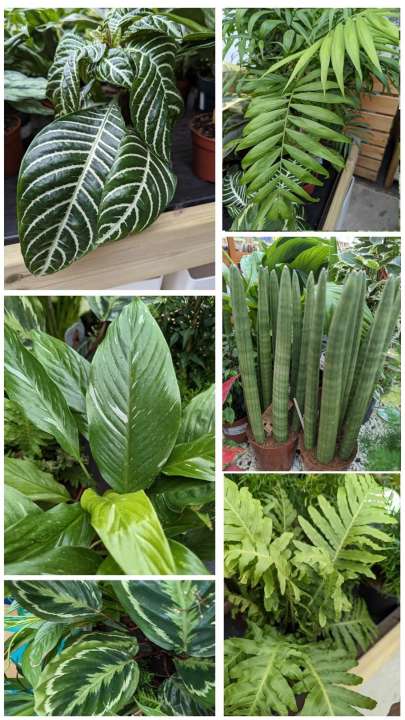 Flowering
Whether you like amazing scented Flowers such as Jasmine or the more traditional flowers like Kalanchoe, we have something for everyone, no matter the time of the year.
Some flowering houseplants are available all year round and some are seasonal and only available in either the Summer or Winter.
Listed are some examples of the plants we stock:
All year Round
Anthurium
Spathiphyllum
Kalanchoe
African Violets
Summer
Jasmine
Saxifrage
Fittonia
Begonia
Winter
Phalaenopsis.
Azalea.
Cyclamen.
Cymbidium.
Poinsettia.
In November and December each year, we sell a selection of British grown Poinsettias with a variety of colours to choose from in addition to the traditional red. Poinsettias make lovely Christmas gifts as well as enhancing your home with a fresh decoration.
Cacti and Succulents
If Cacti and Succulents are what you are looking for, we offer a great range of varieties and sizes all year round. Many people start gardening with a Cacti or Succulent, due to their toughness, being able to cope with a lot of difficult growing conditions that many other plants simply cannot.
Our huge range of Cacti and Succulents has an amazing selection of colours, textures and growth habits to suit, ranging in smaller pot sizes right up to large specimen plants, our comprehensive range can include;
Aloe's
Euphorbias
Echeveira
Crassula
Sedums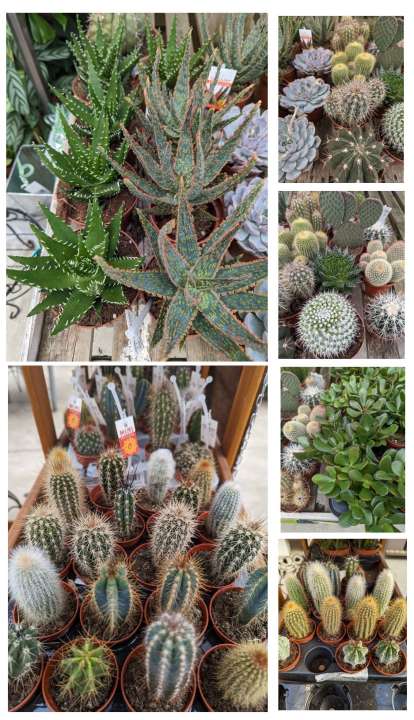 Our range of Cacti feeds and composts will help you to keep your cacti and succulents in top condition.
PLEASE NOTE ALL PHOTOGRAPHS ON THIS PAGE ARE FOR DEMONSTRATION PURPOSES ONLY. IF YOU WOULD LIKE TO CHECK IF WE HAVE CERTAIN PRODUCTS IN STOCK, PLEASE TELEPHONE THE GARDEN CENTRE, ON:-01845 523032 WE WILL BE HAPPY TO HELP. WE ARE UNABLE TO TAKE ONLINE ORDERS.*